You can't overestimate the importance of social media marketing for bloggers and online entrepreneurs. These SMM tools will help you to analyze what your followers like, create great content, and schedule posts to go live at the best time.
Social media is one of the biggest and most important marketing channels for every blogger, agency, or company. But it takes a lot of precious time to schedule posts on Instagram, Facebook, Pinterest, and keep up with competitors. A good SMM strategy can bring tons of organic traffic to your website and build a loyal following. The problem is you need to be consistent to benefit from it.
On-and-off posting will not do the trick. You need to post regularly, so your audience knows what to expect from you. Everybody knows we should post regularly and follow the content plan, but how to fit these everyday posts into your busy day? The answer is automatic posting.
In this article, you will find the top 11 social media management tools. They will help you schedule posts in a bulk and then post them to your social media accounts at the best times. You will learn how to automate social media posts and reach your marketing goals.
But first, let's look at the bigger picture. Do you need social media following? Is it worth the effort?
There are 4,14 bn active social media users in the world, which is more than half of the total world population, and this number continues to grow. In one year, from October 2019 to October 2020, 453 million people joined social media. This is 12,3 % growth. People spend on social media on average 2 and a half hours a day. The opportunity to raise your brand awareness and attract attention there is tremendous.
98% of people have accessed a social network or messaging service in the past month. Almost all of them – 90% – actively engaged or contributed to social media. People do not just scroll down the feed. They do not want to be passive content consumers. Instead, people want to be active and participate in discussions.
Source: Digital 2020 October Global Statshot Report
Disclosure: This project is reader-supported. This means I earn a commission when you purchase through some of the links on this website. There's no extra cost to you. Thanks for your support! Full disclosure here.
1. Promo Republic – the best social media management tool overall
Very professional software with a user-friendly interface. This platform will help you connect brands with loyal audiences on social and achieve your business goals. They will help you to take SMM from a mess to an organized business process. Powered with AI Promo Republic will help you choose the best time slots to reach your audience.
The content library makes it extremely easy to create new visuals with integrated photo stocks and a graphic editor. Content suggestions will do your job for you. Pick any of 100,000+ post ideas and templates with images and GIFs, find articles, and holiday visuals. Get easy-to-digest reports, identify poor performance, and take action.
Best suitable for small businesses and social media agents. They also have a smaller package for Solopreneurs that includes the essential promotion features and amazing AI-powered recommendations. Solopreneurs can enjoy these professional features at a low cost. For 3 social media pages, a Social Media Calendar, and a Library of Content Suggestions you will only pay $9/mo.
This software has won several awards for its AI-powered service and stands out as a Top Performer in 2020.
With PromoRepublic you can schedule posts on Instagram, Facebook, LinkedIn, and Twitter. It is worth special mention that you can also schedule Pinterest posts with this SMM tool. Not many SMM tools have Pinterest scheduling.
Their intelligent algorithms are miraculous. Clients report a growth of 200% when they included AI-suggested post types and changed posting times.
It gets even better! Promo Republic shares its knowledge base on best social media practices absolutely free of charge. Register with the PromoRepublic academy to boost your personal brand and grow your business.
2. Content Studio – the best content marketing tool
Content Studio is a powerful social platform for publishers, brands, agencies and startups. There is much more to it than just SMM, it provides an integrated all-in-one content marketing solution. For the price of SMM software, you get content marketing, influencer marketing, and SEO tool all at once.
It is consistently rated as one of the top performers and industry leaders. You can tell by the many awards they have won.
With Content Studio's client promise of "no more lack of data, email threads, spreadsheets, approval delays and disconnected workflows" they make your life a lot easier. Whether you work with blogs, social networks, or newsletters, they have perfect features to boost your online presence.
Content suggestion. To start with, they do your research for you and find the trending content. Rephrase and rewrite content with integrated tools such as WordAI or Spin Rewriter. Use recommended hashtags to reach a larger audience. Get context-relevant captions written by AI.

Design features. Create compelling visuals with a built-in image editor. Quickly find and embed videos, royalty-free images, and GIFs.

Planner. Quickly review and edit your scheduled posts with an interactive content calendar. Great for team collaboration, when you have a few people working on the same post. Get a bigger picture with a bird's eye view or sort by account, status, label, team member, period, and post type. Manage the content for blogs and social media from a single place.

Post scheduling with perfect timing. This tool calculates the best-performing time slots.

Post recycling. Repeatedly share the best content with the intervals you choose.

Post customization. Tailor your posts to each social network. Facebook conversations are different from those on Instagram. Optimize your captions, hashtags, or mentions for each network and maximize engagement.

Social Media Automation. Coming up with useful content is a difficult task. ContentStudio can auto-post content from your selected sites without interrupting you. So you will always have fresh content on your feed. You can also publish your own blog posts to all the relevant media in one click.

The social inbox pulls in comments from all your social networks. Create saved replies and answer common questions in two clicks. So it is extremely easy to engage with your audience and make your messages personal. Let your followers know that you care.
Analytics. Track the performance with advanced social media marketing analytics. Measure reach, engagement, audience growth, and individual post performance. See what types of content your audience loves most. Create beautiful reports for your clients and team members. You want to showcase your success.

Retargeting. Get better results on the shared links by retargeting website visitors with an added pixel. People read your article but did not subscribe? Or they looked at your product but didn't buy it in the end? Perhaps they need a gentle push. Find them online again and remind them to come back!

Sounds amazing! But it doesn't end there. Here are more useful features for social media content creators:

Content insights. Identify which social networks had the most engagement on your topic. Choose the best-performing content type: you will know whether you should post more videos, articles, or infographics.

Competition analysis. Find top sites and authors on your topic. See how the number of similar articles varied over the last 6 months and how much engagement they had. How long were the most popular articles

SEO Toolbox. Get to the top of Google search results with expert recommendations. SEO Assistant keeps an eye on your SEO score and gives you real-time optimization tips.

Influencer search. Find influencers in your niche to promote your brand, business, or blog. Avoid influencer fraud with deep search and quality analytics.

Of course, you get the must-haves like the editorial calendar and automation for your blog and social.
3. Social pilot – the best social media tool for a large number of posts
If you do a lot of posting and manage multiple accounts, Social pilot is a great tool for you. Even the smallest plan includes 200 (!) posts a day and up to 25 social media accounts. For the number of posts, accounts, and team members this is the best value-for-money offer. Judging by the industry awards and happy client testimonials, users love them!
Social Pilot comes with all the necessary features.
Content curation. Get inspiration ideas from Social Pilot based on your keywords. Discover trending content by filtering the latest posts, and share it with your audience. Use buttons just next to content suggestions to post now or later. If you are using a 3rd party software to find the trending content, you can save that money for marketing campaigns.
Scheduling. Schedule posts in advance to publish when your fans are most active. Customize the posts for different networks and send them out from one place. Schedule once and have your social media marketing working on auto-pilot. Publish the same post several times at preselected times. Bulk scheduling is super impressive: you can bulk upload up to 500 posts from a CSV file at once! Automating social posting has never been easier.
Calendar. Visualize your social media marketing with a calendar view. Filter by accounts to separate your account and your clients' accounts. Spot scheduling inconsistency, fill empty spots in your calendar and reschedule the posts just by dragging to the right time slot.
Design editor. Create compelling images with integrated Canva functionality. Use images, videos, and GIFs to stand out in the feed.

Browser extension. Share content as you are surfing the internet. Install browser extension on Chrome, Safari, or Firefox, and next time you see great content click on a button in your browser. This will give you options to share now or schedule for later. You can even share images without downloading them – just drag the cursor over the image and you will see the publishing menu.
Collaboration. Social Pilot is designed for small and large teams. It is super easy to create a post and submit it for approval. The manager gets notifications, reviews, and approves. The owner has a bird's view and can always supervise the process.
Analytics. Understand your audience, what are their likes and dislikes, and what kind of content they prefer. Find what content post performs better and when is the best time to share. Discover top influencers that can drive engagement traffic to your brand.
Social inbox. Pull all the comments, messages, and posts on all your Facebook pages into one place. Respond with pictures or GIFs to get personal. Easily distribute tasks between team members.
Advertising. Boost your posts for the targeted audience and set up Facebook lead generation campaigns from the SocialPilot dashboard.
4.Planable – the best for beginners
A super easy-to-use tool. Even a 9-year-old could easily schedule and post with this tool. Happy clients say they are saving up to 30 hours each month thanks to Planable. No more "What have I been doing all day?"
A built-in editor helps you create awesome visuals right within the system. Tweak your content for different networks with no extra effort. Add emojis, hashtags, and GIFs
Scheduling. Schedule posts for Facebook, Instagram, Twitter, and LinkedIn in one place.
Calendar. Drag & drop your posts to easily schedule and reschedule them. See your monthly plan at glance and showcase your work to your boss or clients.
Collaboration. Manage permissions for your team members. Leave comments for your team just next to the post. Submit for a pproval in one click.
Organization. Keep your projects in separate workspaces. Store your images in the media library and access them from anywhere.
5. Sociamonials – the best social media tool
for going viral
Become a social media superstar with this viral content-building tool. It is much more than a social media auto poster. On top of the standard social media management functionality, like scheduling and analytics, this unique software enables you to really engage your followers. Run contests, publish user-generated content, and track your performance with customizable analytics.

Automating reposts. Easily plan with a calendar view. Let the Sociamonials automatically identify the right time for posting to reach your marketing goals.

Integrate user-generated content. Invite your fans to share testimonials, reviews, and photos. Socialmonials will pour this UCS to your page automatically, all you need to do is approve it.

Run contests and sweepstakes. Stay safe and organized with fraud prevention, submission approval via mobile, and the ability for participants to enter and vote at the same time.

Track influencers to see which partners bring you the most sales or leads.

Analyze performance. Get all the marketing funnel details and evaluate your campaign's success. Work with the interactive charts to get the social metrics you really care about.

Launch campaigns with customizable templates and beautiful royalty-free photos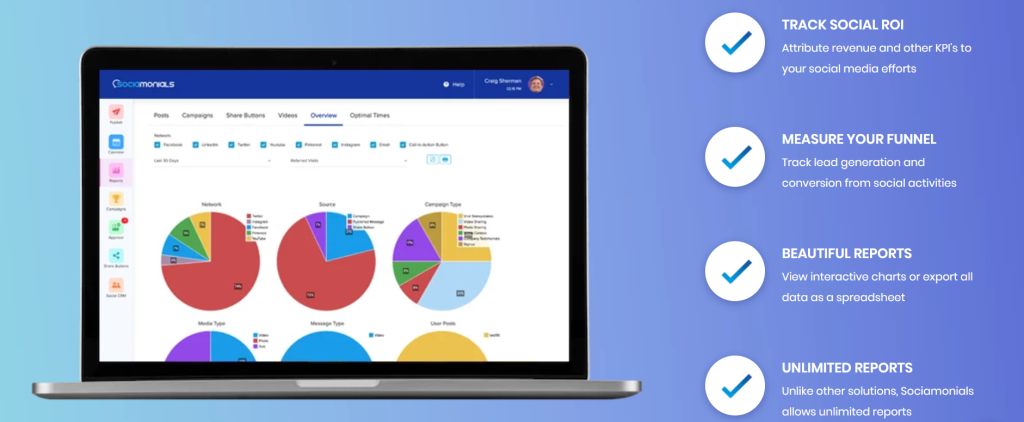 6. Hootsuite – the most popular tool
A good platform that offers all the necessary features and several payment plans to choose from. It allows you to complete your social media marketing tasks like scheduling posts for a particular day and time, collect and respond to comments from your followers, monitor the statistics, and measure performance for your social media marketing campaigns. Hootsuite also has advertising capabilities, so you can launch advertising campaigns with it. Works with the majority of well-known social networks and has necessary integrations with other marketing tools.
7. Publer – the best social media tool for budget-minded users
A super user-friendly social media automation tool for beginners. You can use it with all popular networks: Facebook, Instagram, Twitter LinkedIn, Pinterest, and Google+. They promise to add ouTube and Russian VK soon! Automating social media with Publer is very easy.
You can get up to 5 (Five!) social profiles absolutely FREE. This is probably the best free plan you can find. This comes with 50 scheduled posts and 25 saved drafts. There are a lot of features that you can use for free.
Social media scheduling, so you can publish posts on autopilot

Automatic scheduling based on your predefined settings

Customization for different networks

Built-in photo editor. Make your photos look good before publishing – crop, resize, add filters and text, or even draw

Calendar view for convenient planning

Shortcodes for hashtags, phone numbers, or anything else you repeatedly use. You don't need to retype it every time

Link shortening integrated with Bitly or Rebrandly

Just these free features can take your social media marketing to a whole new level. If you upgrade to a paid plan (very budget-friendly) you get even more:
Analytics to see how your posts are performing

Watermarks for your photos and videos to protect them from unauthorized use

Signatures with your contact details

Scheduling comments for automatic posting at a chosen time

Automating share or delete functions based on your settings

Recycling for your content, that stays relevant, to always have fresh posts even if you have nothing to share.

Recurring posts to constantly remind your followers about the trending offers.
Publer functionality is awesome! They have everything you need at a very low price. One downside is that posting to Pinterest and Instagram is done through Zapier. Hopefully, they will introduce direct posting soon!
8. SocialBee – the best social media automation tool
"Just set it and forget it" is the client promise from SocialBee. This is exactly what we are looking for in social media automation tools. They make your social media management automatic so that you can focus on your business.
Scheduling with a calendar view. Add hashtags and emojis. Review posts before publishing to avoid unpleasant surprises.

Recycling evergreen content. A lot of our posts don't get outdated. They are just as relevant today as they were a year ago.
Categorizing to keep your content organized. Create a category for recycling posts and another category for time-sensitive posts. Bulk editor to make changes to several posts or a whole category all at once.

Automatic posting with RSS, browser extension, or Zapier. Don't even worry about posting. Just set the automation once and SocialBee will post it when you publish a new article or add a new product.

Import multiple media or links at once. Import data from a CSV file.

Tracking your results with UTM and see the performance of different links

Retargeting of your website visitors

Analytics will tell you all about your audience so that you address their needs better. Furthermore, you can spy on your competitors and influencers and study their followers.

Collaboration features for great teamwork. Share, review, and approve with a convenient dashboard.
9. Buffer
Buffer is a simple tool for automating social media with the necessary features to manage social media profiles on several networks. Just like with the other social media automation tools on the list, you can schedule posts in advance, create and manage draft posts, set up a posting schedule, and tailor posts for every network. It provides post reports, which give basic information on when the posts were published and how they performed. You also get access to a self-service knowledge base, if you want to get free social media marketing tips.
10. Later
Later is focused on Instagram marketing, but it also has other platforms. Among other social media marketing tools Later stands out as very visually appealing. Later helps you to schedule posts and plan with a calendar view. You have access to Instagram analytics and stock photo library. For Instagram they have a Linkin.bio option, which allows you to add more than one link to your bio and also link individual posts to specific articles, websites or videos.
11. Metricool – the best for social media analytics-based strategy and Instagram marketing
One of the most useful social media automation tools. The number one priority of this amazing tool is analytics, but it also has all the social media management features you need. This is a very strategic approach. The best management decisions rely on your business data. Instead of guessing what your followers like, measure the success of your campaigns, and make educated decisions.
Metricool pulls in the data from your web, social, and ads in one place. So you can see all your marketing results organized into easy-to-understand panels. Get your website analytics: visits, top-performing posts, comments, and countries. See how your community grows with detailed statistics for every page.
Its unparalleled Instagram features are worth special mention. Unlike with other SMM platforms, you can connect your personal Instagram profile without converting it to business. Engage through stories using historical data of your stories and their metrics. Reach more people with hashtags. Metricool will find which hashtags are the best for your content. Download all your Instagram posts for back up and reuse them. And the sweetest feature for dessert – make your Instagram images clickable and drive traffic to your site.
Metricool is also very helpful with Facebook, Twitter, LinkedIn, YouTube, and Google my Business. Unfortunately, Metricool doesn't work with Pinterest.
Study your competitors and see what strategies they use to grow their businesses. Tune up your marketing strategy with new ideas.
Posting features are great too.
Schedule posts in advance. Metricool will identify the top-performing time for you

Post to several networks at once

Create an automated content list, set the schedule, and watch your content being posted

Use a visual planner to organize your content from one place or create a separate calendar for each network

Create professional content with a built-in editor and link shortener

Automate publications from your blog or external resources. You no longer have to monitor and repost content manually. Set reusable content for repeated posting

Reply to messages from all your networks in one inbox

Showcase your success. Generate stunning and personalized reports for you, your team, or your customers. You can even generate the report on the go without getting on your computer. Just use Metricool App on your mobile

Reach better results with Google Ads and Facebook Ads. Measure performance and compare the campaigns on both platforms in one dashboard. Create new campaigns with a fast assistant. Optimize your campaigns with a Quality Score tool and never overpay for ads again
Despite cheap prices, Metricool offers a great variety of features. No wonder they won the trust of such big brands as Adidas, McDonald's, and Volvo.
How to choose social media management software
Now that we have chosen the best social network for promotion, we can look at the best social media management platforms. What do you look for in a social media tool?
First of all, identify your goals, needs, and budget.
Your goals. Why do you need social media marketing software and what are you trying to accomplish? The answers could be more leads, more traffic, brand awareness and so on.
Your needs. Why are you not satisfied with what you have now? Is it because you are overwhelmed with too many platforms? Perhaps, you want to manage all your social accounts from one source. Or are you not getting results? You need analytics to see what works and what doesn't.
Your budget. How much can you afford to spend on this tool? Social media may be the biggest part of your marketing strategy. In this case, it is worth making a significant investment in a tool that offers you abundant opportunities. On the other hand, maybe you are just getting started with social media and you only need basic features. It makes no sense to pay for a professional all-in-one solution when you are using 20% of all its features.
What are the features that you need in a social media management system? I recommend dividing this list into essential and "nice to have". Make a list of 15 features you would like to have, then circle those that are absolutely necessary.
If an SMM software doesn't have the "must-haves" you will not be able to use it. So you will not even consider those tools. Once you have shortlisted the working tools, look at how many "nice-to-haves" your tool has and find your perfect match!
If you are totally new to social media marketing here is a suggested list of features you may need.
Social networks included. Different platforms have different networks. Almost every SMM tool helps you with Facebook. Many support Instagram and LinkedIn. Pinterest is difficult to find.
Scheduling posts. Usually comes in any SMM tool. Schedule several posts at once and have them published automatically while you are working on other tasks.
Analytics. See how your posts are performing. Test different times and audiences to find the best tactics
Conversations. View and respond to comments and messages from your software. This way you don't have to log in to all your social networks every time.
Paid advertising. If you are serious about your social media presence you need to run targeted ads to reach more people. This will make your social following grow a lot faster.
Team collaboration. Are you a solopreneur or do you have a team helping you with SMM? Your team members need separate accounts.
Social listening. Get notifications and quickly react when somebody mentions you on social media.
Integrations. Integrate other tools you are using with your social media management system.
So where do I get started with social media marketing?
Before automating social media you need to make sure you work with the right audience. If you use social media platforms you are guaranteed to reach a lot of people. But you don't want to shout out at the wrong crowd. Especially when you invest time and money.
The common mistake that beginners make is trying to reach too broad an audience. For example, "I have a food blog. Everybody eats. So my target audience is just anyone on any social network".
This won't work. Not everybody eats in the same way. There are executives interested in the best restaurants. There are housewives interested in sophisticated recipes. There are working moms and dads interested in healthy yet quick bites. There are students interested in cheesy cheap pizza. You don't need to promote your blog on every social network, just hoping that it reaches a few interested people.
Instead, we want to think strategically. We can create the image of a potential follower or customer. This is called "customer persona". And we treat them just like real people.
For example, this is Mary. Mary is a 36-year-old working wife and mother. She lives in Colorado with her husband and two children. She wants to make nice dinners for her family, but she also has a promising career, a gym, and a few hobbies. She is the perfect follower of your food blog if you publish recipes like "family dinner in one hour". Remember Jaimee Oliver had a video series on this? If you have a food blog, you sure do.
Use the chart below to help you with your marketing strategy. This will answer essential questions.
She gets onto social media in the late evening, before going to sleep, and while at work (but tsss – who doesn't?). So this is when we need to share our best content with Mary so that we can have her attention. This is a guess. Let's check it with the chart
What social networks are the best for my business?
Based on gender and age, the perfect networks are Facebook and Pinterest. Perhaps also Instagram.
Instagram is great for interaction and brand awareness, it is less effective for bringing traffic. Unless you use Metricool. This tool brings traffic from Instagram by creating clickable posts. You will find a detailed overview at the end of this article.
How often should I post on social media?
Facebook: once a day
Pinterest:15 a day
When is the best time to post on Facebook?
1-3 pm Weekdays and Saturday
When is the best time to post on Pinterest?
Throughout the day
When is the best time to post on Instagram?
11-1 pm
5 pm
7-9 pm
Weekdays
Choosing the social media network for your business:
Now you are clear on your target audience, you have a customer persona and know which social networks you will work with. These are essential for successful social media marketing. Let's see how we do this with other businesses.
To see what social network is best for you see the infographics above. Ask yourself:
Is my offer gender-specific? Is it relevant to men or women?
How old is my potential audience?
What are their needs that I can address?
Did you find this post useful? Share it! Everyone loves good content!